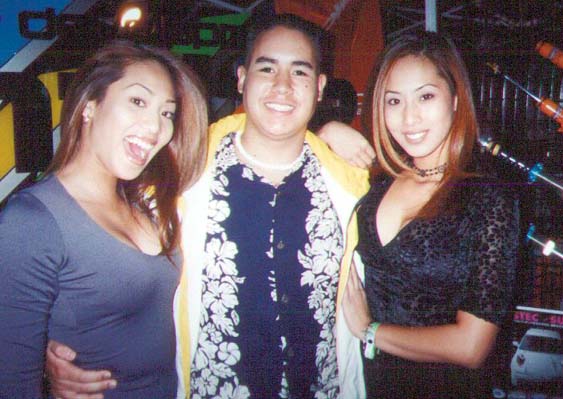 This is my homegirl Jen with her Twin Sis' Liv...but you probably already know them!...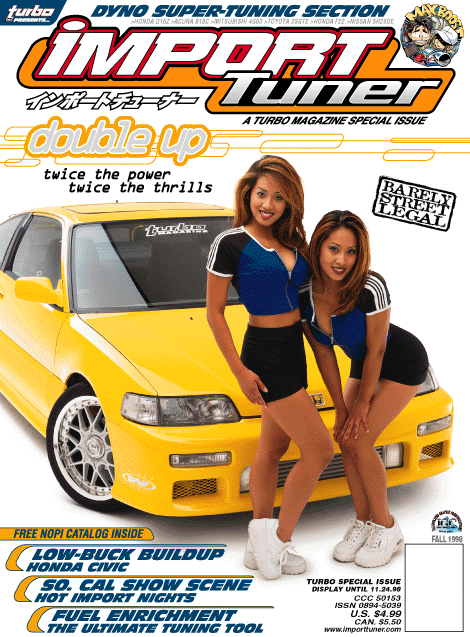 Hey wassup peoples, thanks for checking out my webpage...first off I'll tell you a little bit about myself. I am from West Covina, Cali baybee, and a graduate from West Covina High School, class of 1999!!! I'm a Taurus, 4-21-81, and I am currently attending Mt. SAC trying to get my education so I can become oh..I dunno...but maybe something that pays me real good, not like deejaying!!! I am also saving lots of money, but the main reason I am there is cause I can't afford anything else! Hehe, thanks Mr. Medina, for making that more clear to me. I love my Sociology class, it's the perfect class for me. Hehe, if you have never taken a Soc class, I beware you, that this class isn't for everybody! Hehe. I was supposed to go to Cal Poly Pomona, but they seemed to have not processed my loans on time, and they screwed me over...but anyways, I will save a G or two by going to the community college next door! Anyways, I have been deejaying since the beginning of 1998...so that makes it what? Like 3 years almost? I deejay with my crew, the who are in part with Critical Beatdown affiliates E-rok, Jon D, and Roc. Peace to all the deejay friends we have met along the way: FlipMo-Auspicio, Buddy, Jeff & Statistix, Dj Frank-e, Upper-cut, Dizzy, Headspin, and the rest of the guys who entered in the Guitar Center Vestax spin-off back in July! Also big ups to our homies from Sound Sequence...EMD, Jay-P, Rel-1, and Naga. We can't forget the party crews, and promoters out there who hook us up with vinyl and Gigs, and who are just dope peeps to be around! A big part of my props go out to Head Hunt N:::Joe, Patrick, Nu, Mike, Chuck, and the rest of you guys, for hooking up mad dope vinylz! These guys got it locked down, for the whole L.A. area! Ace productions...wassup Jacki! [guys, this is the girl with all the dope connections! Talk to her! =-)] And finally, a big wassups to all my brothers and sisters of Tru 2 Life:::Eijay, Joel, Jerome, Mark, Charlie, Ron, Manny, Jonny, John, Ian, Lisa, Marlynn, Ela, Gina, Michelle, "Fontana", "Pasadena", "Eagle Rock" and everyone else I forgot. Please don't get mad if your name wasn't in there!!! Just E-mail me, and I'll put it in for you! I also want to give shoutouts to all my AOL friends, and peeps who I have grown close to over the years thru online. There's too many names to put here, but I'm sure that if we have ever talked and were cool before, then you deserve to be on my list if I were to ever make one! I hope you will take time out to browse this pretty crazy site, and I hope to update this thing real soon...as soon as I get more pics uploaded. Keep in touch peeps, and you can check out my links page, as well as my Adventures at Import Showoffpage, which is basically just a boring page from Import Showoff 98 in Pomona, which is full of hoochie girls and dope azz rides...so check it out if u wanna'. Hehe, u know u wanna go there guys!
One Luv...DJGuamstyle.
Check these out:
Our very own Turntable Teknicianz skin for Winamp!!! 27K
My Adventures at Import Showoff 98' in Pomona
Mah' linkz page (dope shit)